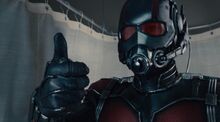 Ant-Man is a 2015 American superhero film based on the Marvel Comics characters of the same name: Scott Lang and Hank Pym. Produced by Marvel Studios and distributed by Walt Disney Studios Motion Pictures, it is the twelfth installment of the Marvel Cinematic Universe (MCU). It concludes Phase 2. The film was directed by Peyton Reed, with a screenplay written by Edgar Wright & Joe Cornish and Adam McKay & Paul Rudd, and stars Rudd, Evangeline Lilly, Corey Stoll, Bobby Cannavale, Michael Peña, Tip "T.I." Harris, Wood Harris, Judy Greer, David Dastmalchian, and Michael Douglas. In Ant-Man, Lang must help defend Dr. Pym's Ant-Man technology and plot a heist with worldwide ramifications.
Development of Ant-Man began in April 2006, with the hiring of Wright to direct and co-write with Cornish. By April 2011, Wright and Cornish had completed three drafts of the script and Wright shot test footage for the film in July 2012. Pre-production began in October 2013 after being put on hold so that Wright could complete The World's End. Casting began in December 2013, with the acquisition of Rudd to play Lang. In May 2014, Wright left the project citing creative differences, though he still received screenplay and story credits with Cornish as well as an executive producer credit. The following month, Reed was brought in as Wright's replacement, while McKay was hired to contribute to the script with Rudd. Principal photography took place between August and December 2014 in San Francisco and Metro Atlanta.
Ant-Man held its world premiere in Los Angeles on June 29, 2015, and is scheduled to release in North America on July 17, 2015, in 3D and IMAX 3D.
Synopsis
Armed with the astonishing ability to shrink in scale but increase in strength, master thief Scott Lang must embrace his inner-hero and help his mentor, Dr. Hank Pym, protect the secret behind his spectacular Ant-Man suit from a new generation of towering threats. Against seemingly insurmountable obstacles, Pym and Lang must plan and pull off a heist that will save the world.
Plot
In year 1989, Hank Pym resigns from S.H.I.E.L.D. after discovering the organization attempted to replicate his own Ant-Man shrinking technology, which Pym believes is very dangerous and vows to surpress it.
In the present, Pym`s estranged daughter, Hope van Dyne and protege, Darren Cross, have forced him from his own company, Pym Technologies. Furthermore, Pym is more devastated when Cross unravels his own project; an advanced shrinking suit, named the Yellowjacket, based on Pym`s original suit.
Meanwhile, several months after the events transpiring in Sokovia, well-meaning burglar, Scott Lang, has been released from San Quentin State Prison, after serving three years, for burglarizing a former employer. He reunites with his former cellmate, Luis and his two other partners, who offer him a position in a burglary; however, Lang exploits his intention, about going straight. Furthermore, he learns that his ex-wife has been already engaged to a police officer, Jim Paxton. His wife also reveals that he cannot see their child anymore if he does not provide child support.

Pym sends Lang to a very risky mission, where he steals a device from the New Avengers Facility, that eventually leads to a fight between Lang and Falcon.
Later, Pym in frustration, tells Hope the truth about the death of her mother, Janet van Dyne; her mother was the counterpart of Pym`s Ant-Man superhero identity, the Wasp, who sacrificed herself to prohibit a Russian nuclear launch missile to be activated; in the process, she disappeared into a subatomic Quantum Realm. He admits that he does not want the same to happen to Hope; then the two reconcile.

Cross dons the Yellowjacket suit. Lang traps Cross in a bug zapper, but before he can sabotage his suit, he is arrested by Paxton. Cross escapes, and holds Scott`s daughter, Cassie Lang, as hostage, to lure Scott to him. They both fight once again but as a last effort, Lang shrinks to a subatomic size to finally penetrate and sabotage the Yellowjacket suit. They both shrink uncontrollably in the nothingness of the subatomic quantum realm; however, Scott escapes, by altering the mechanism of the suit, and reverting to his original size.
Witnessing the heroism of Lang, Paxton covers up for him, and wriggles him out of serving time. Seeing that Lang survived the Quantum Realm, Pym wonders if his wife is still alive. Luis also informs Lang that the Avengers are looking to recruit him, by the suggestion of Falcon.
Later, Pym congregates the latest prototype of the Wasp Suit to Hope, offering it to her.
In another location, Captain America and Falcon have captured Bucky Barnes. Unable to contact Tony Stark "because of the accords," Wilson states he knows whom to contact. The scene then shows a text: "Ant-Man will return." And so, it is very well presumed that the guy Falcon was talking about is none other than our small but terrible hero, ANT-MAN!
Cast
Paul Rudd as Scott Lang/Ant-Man
Michael Douglas as Hank Pym
Evangeline Lilly as Hope van Dyne
Corey Stoll as Darren Cross/Yellowjacket
Michael Peña as Luis
David Dastmalchian as Kurt
John Slattery as Howard Stark
Abby Ryder Fortson as Cassie Lang
Bobby Cannavale as Paxton
Judy Greer as Maggie Lang
Wood Harris as Gale
Gregg Turkington as Dale
T.I. as Dave
Martin Donovan as Mitchell Carson
Hayley Atwell as Peggy Carter
Jordi Mollà as Castillo
Lyndsi LaRose as Emily
Anthony Mackie as Sam Wilson/Falcon
Chris Evans as Steve Rogers/Captain America
Sebastian Stan as Bucky Barnes/Winter Soldier
Stan Lee as Bartender
Premise
Several months after the events of Avengers: Age of Ultron,a thief named Scott Lang must aid his mentor and former hero Dr. Hank Pym (film) in safeguarding the mystery of the Ant-Man technology—which allows its user to decrease in size but increase in strength—from various new threats, and plot a heist that will save the Earth.